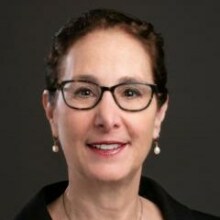 Deborah B. Dunie
Independent Board Director / Consultant / C-Suite Executive
Deborah "Deb" Dunie is an Independent Board Director, Executive Consultant, and C-Suite executive working with both publicly traded and private companies.  She brings her deep knowledge of Technology, Digital Transformation, Enterprise Risk, Cyber Security, Privacy, and Enterprise Security and Governance to the boardroom, Private Equity due diligence, and executive leadership engagements.  Deb is a NACD Board Leadership Fellow; recognized for her commitment to the highest standards of boardroom excellence.  Since 2016, she has also served on the faculty of the Director Professionalism Program of the NACD, where she mentors executives and is called upon to speak to boards about Strategic Growth and C-Suite Relations.
Deb currently serves as a Board Director on two privately held technology companies; Objective Interface Systems, Inc., and Code-X.  She is also a member of the Advisory Board of Tetrad Digital Integrity, LLC., a venture-backed advanced technology company in the cyber domain, and the Board of Harvest Returns, an agricultural investment fund.  Deb has served on two publicly traded Fortune 500 companies, SAIC (NYSE:SAIC) Jan 2015 – June 2019 and Alliant Energy Corporation (NASDAC:LNT) Apr 2015 – May 2019. At SAIC she served on the Nominating and Corporate Governance Committee; the Human Resources and Compensation Committee; and the Classified Business Oversight Committee.  At Alliant Energy, she was a member of the Compensation and Personnel Committee; and the Operations Committee.
Deb brings over 30 years of C-suite and senior level business experience through key executive positions with leading technology companies.  Deb retired in 2015 as Executive Vice President and Chief Technology Officer of CACI International, a worldwide information solutions and services provider (NYSE: CACI).  During her tenure at CACI she focused on driving the solutions/services portfolio, and was instrumental in identifying and closing 18 mergers/acquisitions aligned to the corporate growth strategy.  Deb has demonstrated expertise in Cyber Security, Cloud, Mobility, Data Analytics and Intelligence. Widely quoted in industry publications, Deb was featured as the cover story for Washington Technology "Tech Gurus" in May 2011, and in the Metropolitan Corporate Counsel Magazine, April 2017, "Special Section: Cybersecurity".  Throughout her career, Deb focused extensively on developing corporate culture, leadership, talent and succession planning.
Prior to CACI, Deb was a member of the Department of Defense Senior Executive Service within the Office of the Under Secretary of Defense for Intelligence.  As principal advisor to the USD(I) she was responsible for providing executive leadership, guidance